Old News and Information
---
Lee Sobotka's presentation from the Gordon Research Conference on Nuclear Chemistry, 2023, is available for download here.
---
A group of CENTAURians, including 25 graduate students, met at Los Alamos National Laboratory in late August 2019 to hold the annual collaboration and Scientific Advisory Council (SAC) meetings back-to-back. The meeting began with presentations by several students to the collaboration and interested parties from LANL, which were reciprocated by talks on LANL research that afternoon. Some of the research overlapped strongly with CENTAUR participant interests (i.e. astrophysics), while some presented projects not directly related to low-energy nuclear science.
The next day the 1.5 day SAC meeting began, with six representatives from different national labs and universities represented on the SAC, who have been familiar with CENTAUR for the past year. Presentations reported on CENTAUR progress, including the triton-beam work at FSU, collaborative neutron detector work, and experimental and theory program highlights. Students had the opportunity to present their research posters to the SAC and other LANL employees. A highlight of the meeting was getting to videoconference with Professor Paul Cottle, a local school board member, the local science teacher, and three of the students from the nuclear summer school program started with CENTAUR funds in Panama City, FL.
The last afternoon concluded with tours of interesting LANL experimental areas, which many students agreed was a clear highlight of the trip. Students were afforded ample opportunity to discuss their research and network with national lab employees during the course of the successful meeting.
Check out event photos here!
---
The most recent CENTAUR graduate, Cole Pruitt, won an award for his poster at this summer's Gordon Research Conference on Nuclear Chemistry. He is depicted below presenting his award-winning poster.
Here's what Cole Pruitt has to say about his experience in graduate school at Washington University in St Louis, "I joined the CENTAUR collaboration as a senior graduate student about a year before completing my dissertation. CENTAUR funding allowed me to delay my graduation so that I could expand my Dispersive-Optical-Model analysis to a much broader range of important closed-shell nuclei, increasing the impact of my research. I defended in April 2019 and am in the application pipeline for computational physics postdocs/positions at LANL and LLNL.





Below is a figure from my dissertation relevant to CENTAUR-funded period. It shows the matter density of O18 as calculated from our best DOM parameter set for O18, giving a neutron skin of ~0.20 fm."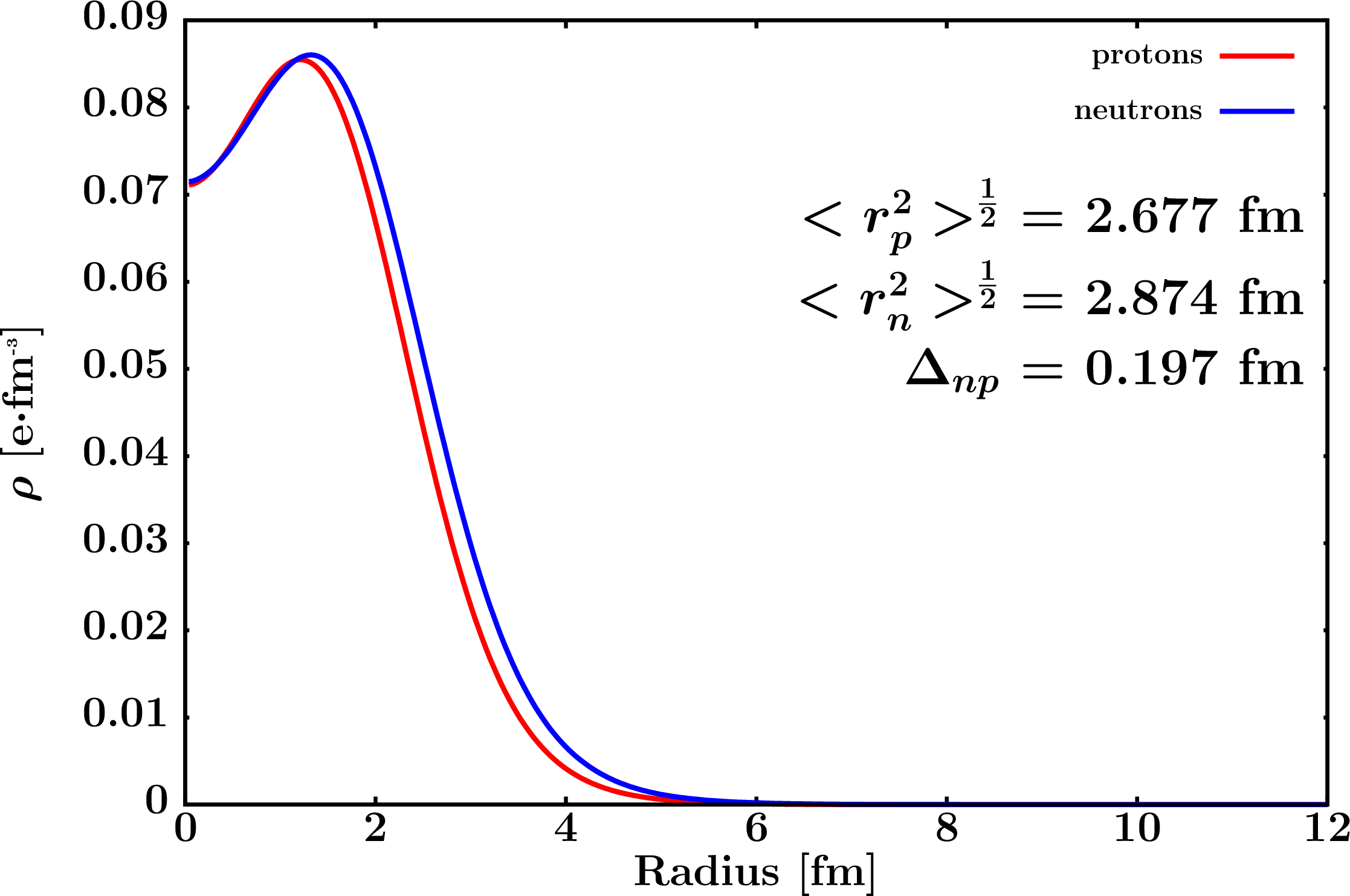 ---
This summer 19 middle and high school students attended a CENTAUR sponsored summer camp at FSU-PC. The Nuclear Medicine and Science Camp exposed the campers to a wide variety of hands on experiments.

You can read an article on the camp here.

You can read more about the NMSC on FSU-PC's website here.
---
| | |
| --- | --- |
| Perello Pictured Above With his Award and Winning Poster | CENTAUR Graduate Student, Jesus Perello from Florida State University, received an Award for Outstanding Poster at the 2019 National Nuclear Security Administration Stewardship Science Academic Programs (SSAP) Symposium on Wednesday, February 20. Read more about this achievement here! |
---
Brittany Abromeit Pictured by the FSU Gamma Detector Array

Read what our first graduating student has to say about her experiences with CENTAUR and how it helped shape her career!

"…the CENTAUR program came along and introduced me to the NNSA national laboratories, opening my eyes to the hidden world of mission-based science….." Click here to read further!
---
Read the article from Washington University in St. Louis about CENTAUR chemists and physicists working to build a better computer chip for improved neutron detection and surveillance of illegal transport of nuclear materials in the U.S.