Mission
Provide the research experience necessary to develop the next generation of leaders in stewardship science in the area of low-energy nuclear science in support of the workforce and research needs relevant to the NNSA mission.
News
Stay updated on CENTAUR's latest research advancements by following our Twitter account here.
---
Summer Camp Helps to Inspire the Next Generation
New! This summer 19 middle and high school students attended a CENTAUR sponsored summer camp at FSU-PC. The Nuclear Medicine and Science Camp exposed the campers to a wide variety of hands on experiments.

You can read an article on the camp here.

You can read more about the NMSC on FSU-PC's website here.
---
New! The most recent CENTAUR graduate, Cole Pruitt, won an award for his poster at this summer's Gordon Research Conference on Nuclear Chemistry. He is depicted below presenting his award-winning poster.
Here's what Cole Pruitt has to say about his experience in graduate school at Washington University in St Louis, "I joined the CENTAUR collaboration as a senior graduate student about a year before completing my dissertation. CENTAUR funding allowed me to delay my graduation so that I could expand my Dispersive-Optical-Model analysis to a much broader range of important closed-shell nuclei, increasing the impact of my research. I defended in April 2019 and am in the application pipeline for computational physics postdocs/positions at LANL and LLNL.





Below is a figure from my dissertation relevant to CENTAUR-funded period. It shows the matter density of O18 as calculated from our best DOM parameter set for O18, giving a neutron skin of ~0.20 fm."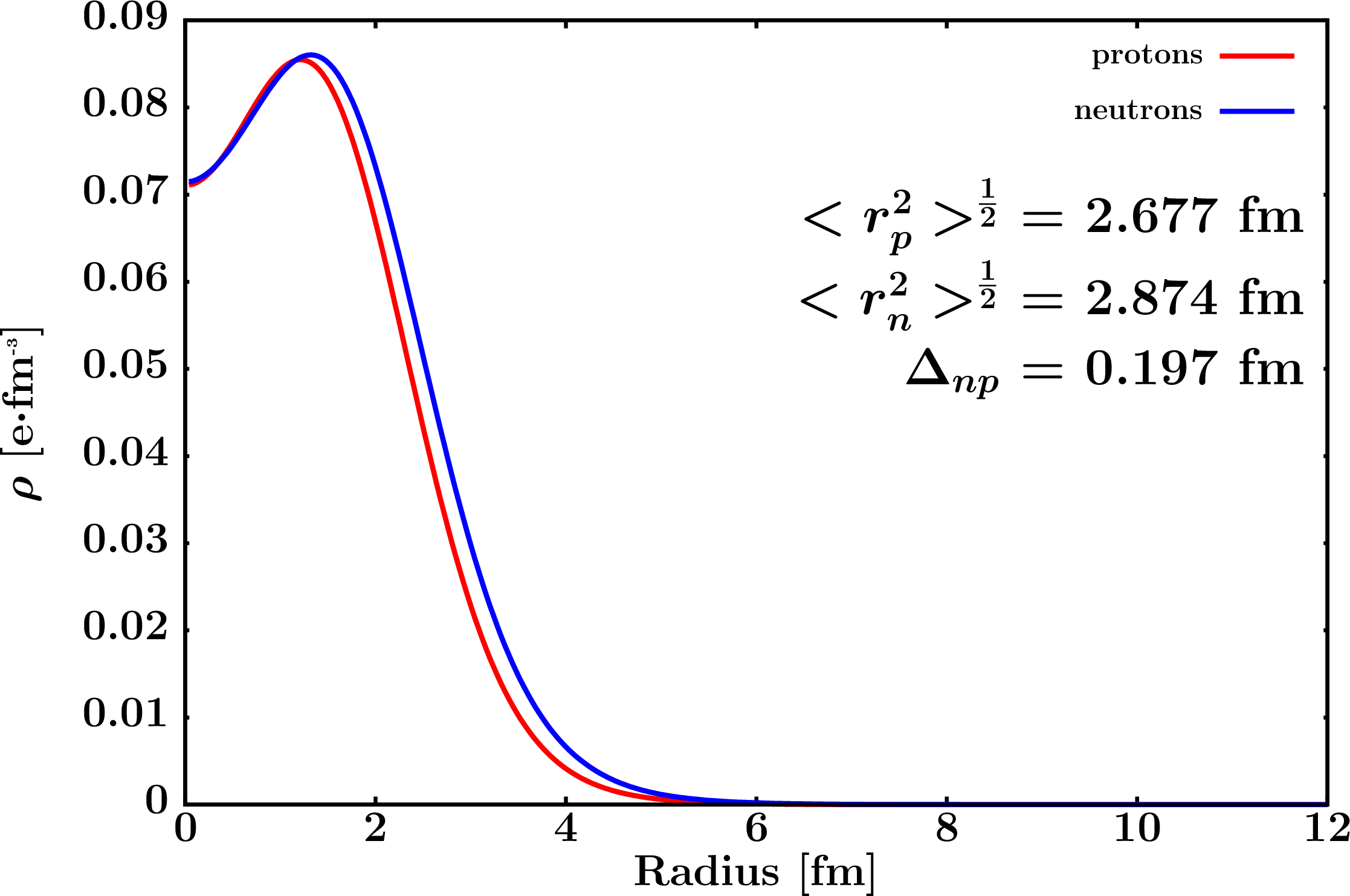 New! Here's what Shi Jin has to say about his graduate career and what he's doing next: "Throughout my doctorate program in University of Washington, I have been working on the application of the density functional theory (DFT) on various nuclear quantum many-body problems. My dissertation focuses on fission dynamics, which was discovered 80 years ago but still lacks a microscopic interpretation. With 5+ years of experience in high-performance scientific code development, I finally got a job offer earlier this year from the high-performance computing (HPC) group in Amazon Web Services (AWS). In this group, I will work on the deployment of applications of both scientific and industrial communities on the AWS cloud-computing platform. Equipped with the knowledge and skills obtained in the CENTAUR program, I am looking forward to my career in Amazon."
---
Information about the Department of Energy National Nuclear Security Administration Laboratory Residency Graduate Fellowship program for graduate students.
---
Read the newsletter from Michigan State University about project milestones including accelerating beams in superconducting cryomodules and a successful circulation of liquid-lithium film at the Facility of Rare Isotope Beams (FRIB).
---
Read the article from the University of Notre Dame Department of Physics about how CENTAUR helped fund a graduate student's summer at the Lawrence Livermore National Laboratory.
---
Read the article from Washington University in St. Louis about CENTAUR chemists and physicists working to build a better computer chip for improved neutron detection and surveillance of illegal transport of nuclear materials in the U.S.
---
Information about the Neutron Detector Workshop 2018 has been posted.
---
Read the press release from Texas A&M University College of Science announcing the establishment of CENTAUR.
---
Visit our Opportunities page for information regarding hiring positions, programs and fellowships.
Objectives
Conduct basic research in low-energy nuclear science of relevance to the stockpile stewardship goals of NNSA.
The proposed research encompasses experimental and theoretical aspects of low-energy nuclear science, with an emphasis on stewardship relevant topics. Graduate students will be recruited and trained via the proposed NNSA relevant topics.
Create a partnership that allows for use of accelerators at Texas A&M and Florida State universities among other university partners and national laboratory collaborators.
The Center will provide opportunity for: collaborative use of accelerators and other research equipment among Center university partners and National Laboratories, intellectual exchange between academic research partners and research scientists at the DOE/NNSA laboratories, and provide broad and appropriate training in low – energy nuclear science.
---
Develop a workforce trained in the nuclear science relevant to support the DOE/NNSA laboratories.
Center efforts will focus on the recruitment, education, and training of graduate students and postdoctoral scholars (post-docs) in research areas and techniques applicable to the workforce needs of the NNSA. The trained students and post-doctoral fellows will not simply be experts on one technology, but be able to evaluate competing strategies for approaching experimental and theoretical nuclear science problems. Many will have collaborated with staff and/or interned at Lawrence Livermore National Laboratory or Los Alamos National Laboratory.
---
The Center for Excellence in Nuclear Training And University-based Research (CENTAUR) is a multi-institutional effort supported by a five-year, $10 million Stewardship Science Academic Alliances (SSAA) grant from the Department of Energy's National Nuclear Security Administration (DOE/NNSA). CENTAUR will pursue basic research in low-energy nuclear science through experimental, theoretical, and technical programs using accelerators at Texas A&M's Cyclotron Institute and Florida State University's John D. Fox Superconducting Linear Accelerator Laboratory as well as facilities at the other participating institutions. Existing collaborations between scientists at Texas A&M and the NNSA national laboratories—including Los Alamos National Laboratory and Lawrence Livermore National Laboratory—will be incorporated into center programs and expanded to involve scientists from all partner institutions, which include Texas A&M University, Florida State University, Washington University in St. Louis, the University of Washington, Louisiana State University and the University of Notre Dame.
---
To learn more about CENTAUR, from research programs and technical resources to available graduate student and postdoctoral funding, contact us.
---
Partner Academic Institutions
---
Partner National Laboratories
---
Award Number DE-NA0003841